Picosecond fluorescence spectrochronograph

Solid-state Nd:YAG mode-locked picosecond laser Antares (25 W output at 1064 nm, 1 W output at 532 nm, pulse width 70 ps, repetition rate 76 MHz).
Cavity dumped synchronously pumped Model 702 (Coherent) dye laser (120 mW output power, pulse width 3 ps, tuning range with different dyes 570-880 nm, repetition rate 40 kHz-76 MHz).
Synchroscan Streak camera (temporal resolution 5 ps, spectral response 400-1100 nm, repetition rate 76-82 MHz, signal amplification 1000).
Optical Spectral Analyser OSA (B&M Spektronik) (scanning time 32 ms, A/D converter 12 bits, data storage-30 memories of 500 channels).
Double subtractive dispersion monochromator DTMc300 (Bentham instruments Ltd) (focal length 0.6 m, scanning range 300-1200 nm, spectral resolution 0.05 nm).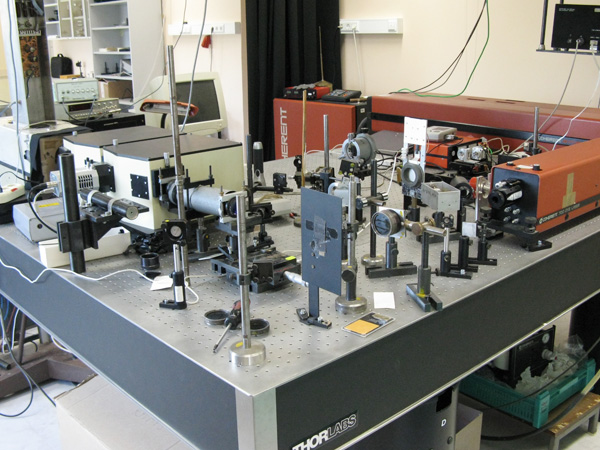 Time-correlated single-photon counting system (EG&G Ortec) together with SPCM-AQR (Perkin Elmer) avalanche photodetector (time resolution 300 ps, dark count 22 Hz).
A selective spectroscopy setup

Spectra Physics dye (570-700 nm) and 3900S Ti: sapphire (675-1000 nm) laser with 2.1 GHz spectral bandwidth
Andor Shamrock 303i spectrograph
Fibre coupled Jobin Yvon monochromator THR1500
CCD cameras from Andor Technology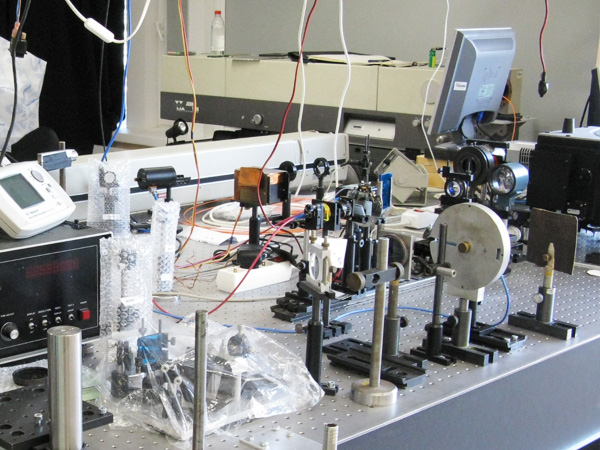 High-pressure instrumentation based on conventional and diamond anvil cells for optical measurements at variable pressures up to 70 kbar and temperatures down to 10 K.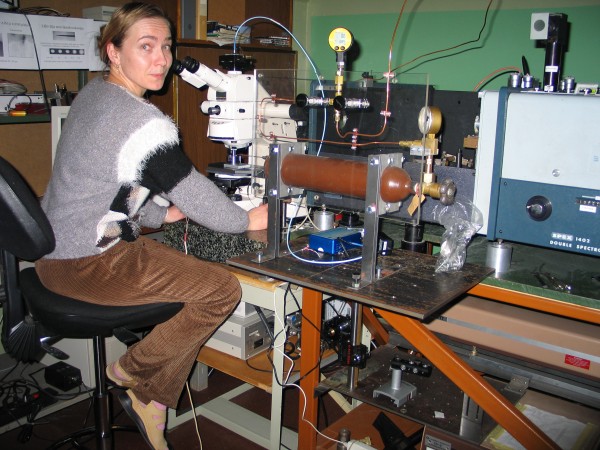 Micro-Raman spectroscopy system (Renishaw).
Circular dichroism spectroscopy

This technique reveals information about a molecule's chirality or "handedness". The CD spectra can be used to uniquely identify chiral compounds and their configurations, predict the secondary structure of proteins and other biological macromolecules. In kinetic mode CD can be used to monitor and quantity ligand binding processes.
Chirascan-plus CD-spectrometer (Applied Photophysics, UK) 
Wavelength range: 165 – 1150 nm. 
Detection modes: Simultaneous circular dichroism, absorption, and fluorescence detected CD. Total fluorescence detection 185 – 850 nm. Fibre optic connection to external emission spectrometer.
Laser tweezers
Olympus IX-71 inverted microscope-basic element of the optical tweezers system.